A professionally designed course will have an intuitive layout and will offer a great experience that attract players to come again and again.
ChainLink Disc Golf can provide you with a professional disc golf course design on your property. Whether you are a municipality, a private landowner, conservation authority or a golf course, we have experience designing a wide variety of courses on land with unique characteristics – from beginner-friendly courses that introduce people to the sport, to courses for championship level play by established disc golfers.
We can advise on what would work the best for your property and how it can complement your existing operations through use of periphery land on golf courses or through seasonal activation. We always take your needs into account.
Our design philosophy is one of working with the land to minimize disruption and take advantage of existing features. Accordingly, our disc golf course designs always consider:
DiscGolfPark® is the largest course installation company globally and offers a premium, turn-key solution for building disc golf courses. The DiscGolfPark® concept consists of courses around the world with high quality equipment and recognizable branding with a consistent look and feel. Globally, players seek out DiscGolfPark® courses as they feel comfortable and know exactly what to expect.
As the official DiscGolfPark® designers for Ontario, we can build a DiscGolfPark® course for you!
As authorized distributors of DiscGolfPark® equipment, we are proud to be able to provide high quality course equipment that will meet your needs.
DiscGolfPark® Pro Targets
These eye-catching disc golf targets are likely to be the first thing people will see on the course. As PDGA approved "Championship" standard targets, they are a premium quality with 28 chains configured in two tiers for superior catching. Targets are made in Europe from galvanized metal and have a built-in navigational arrow. They are available in two configurations: 1) with a sleeve and locking collar for in-ground install, or 2) with a portable base.
Artificial turf tee pads offer an aesthetically pleasing playing surface from which players can tee safely. Maintained correctly, artificial turf is a durable surface with just the right amount of grip. Players can feel confident in their run-up, which is essential for an enjoyable playing experience.
The right signage helps players easily navigate from hole to hole and is an important part of forming positive impressions of the course. A welcome sign as well as information at each hole eliminates guesswork and enhances the experience of playing. Wayfinding is also enhanced through digital means with a UDisc app QR code available at the first hole.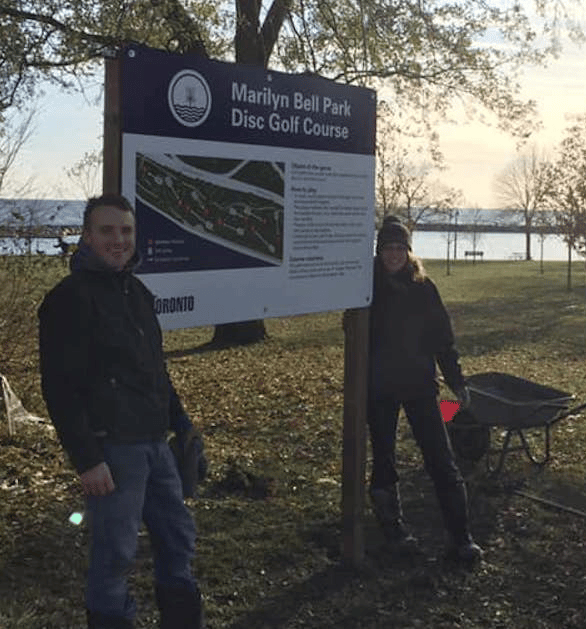 Having a great disc golf course is not just dependent on installing the right equipment, but on the proper installation as well. Leave the full install of disc golf targets, signage and tee pads to us, or hire us in a consultative capacity to support course installation with your own staff.
We are insured and in good standing with the WSIB.
Having a course launch or opening day event is a great way to generate excitement among area disc golfers for a new course and to introduce new players to the sport.
As part of the launch, we ensure the course is set-up within the UDisc app and the Professional Disc Golf Association (PDGA) Course Directory to attract players. We also have Discmania starter sets of discs available or can organize disc golf clinics for new players.